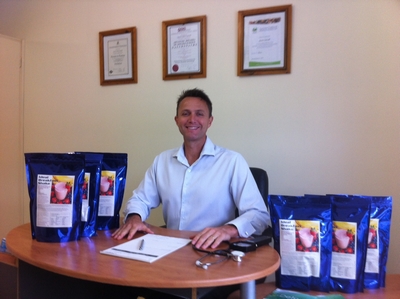 Jason Carroll
Jason Carroll is a Naturopath with over 20 years experience in the natural health industry who specialises in nutrition and supplementation for health and wellness. Jason has previously run a busy naturopathic clinic in Port Macquarie NSW.
Jason's passion for combining high potency superfoods with herbs, antioxidant-rich berries and whey protein led to a shake replacement for the highly processed cereals commonly eaten today. He developed The Ideal Breakfast Shake over the last decade with extensive trials in his clinic and now, after building a huge following with local customers, has released the shake to the general public.
"Originally I wanted to develop a high protein breakfast shake containing minimal fat and carbohydrates and featuring as many antioxidant rich foods as possible to combat the stress on our bodies from poor eating habits and living in a stressful environment. Further research into the value of immune boosting herbs and protein led to the formula evolving becoming not just a healthy breakfast alternative but a comprehensive source of the world's most potent superfoods."
"Breakfast is an opportunity to fuel up on essentials nutrients for optimal physical and mental energy and to set the trend for the rest of the day with stable blood sugar levels".
Jason continues to research and test innovative ways to use nature's superfoods in delicious new products.
Ryan - Marketing Manager

Ryan is the marketing manager at the Ideal Breakfast Shake. He is currently studing Commerce at Bond university on the Gold Coast and has a history in the elite sport of surf life saving, competing at the highest level for over a decade.

In Ryan's words - we were inspired to develop this brand as a weight loss and muscle building leader, however we did not want to limit this shake like many of our competitors to athletes and high performance only. We have made a product that focusses on promoting a healthy diet and delivering all the benefits of protein and superfoods to the average person.

The purpose of the Ideal Breakfast Shake is to provide an efficient and delicious way to consume the very best ingredients with the convenience of a protein shake.